Click here to subscribe to mailing list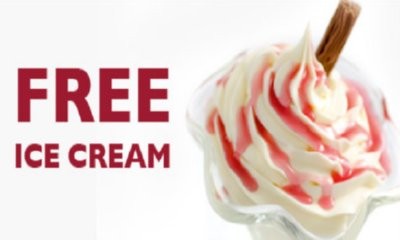 FREE Ice Cream – Celebrate National Ice Cream Day
National Ice Cream Day is here today Sunday, July 19th, and you can celebrate by into FREE ICE CREAM. Several big chains will be doling out free scoops and giveaways, which means your favorite flavor will be dripping down your hand in no time. Don't expect to stick your face under a soft serve machine (our fantasy), but here's where to get tasty freebies:
Free Ice Cream Deals
Carvel
The deal: Buy one get one free soft serve ice cream cones. Any size, any soft serve flavor.
When: July 19th.
Cold Stone Creamery
The deal: Members of the My Cold Stone Club (free rewards club) can get a free ice cream "creation" with the purchase of one. The deal also applies to Cold Stone's shakes, smoothies, and its new frappés.
When: July 19th.
Friendly's
The deal: To celebrate both its 80th birthday (July 18th) and National Ice Cream Day, participating Friendly's locations will give you a free scoop of ice cream in a cup or a cone, when you buy one for $1.99.
When: Starting at 11am July 18th through July 19th.
Dippin' Dots
The deal: Participating Dippin' Dots franchise locations (at malls and shopping centers) will be handing out free samplesof its newest flavor, Redberry Sherbet, which is made with Sour Patch Kids.
When: July 19th.
Other Ice Cream Deals
Marble Slab Creamery
The deal: Get $3 off your entire purchase (one time only), when you use Marble Slab's Slab Happy Rewards app.
When: All of July.
Baskin-Robbins
The deal: Free upgrade to a waffle cone on double scoop ice cream cones.
When: All of July
Another deal: As it continues to celebrate its 70th birthday and the end of National Ice Cream Month, Baskin-Robbins is taking 31% off of all ice cream sundaes at participating stores.
When: July 31st.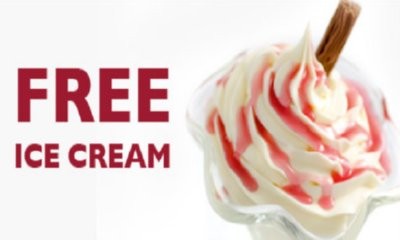 Graeter's
The deal: In celebration of its 145th birthday, which happens to fall right on National Ice Cream Day, Graeter's shops are offering $1.45 cones.
When: July 19th.
Dairy Queen
The deal: This one's a big question mark. Since most DQ's are independently owned and operated, we were told National Ice Cream Day revelers should call their local outpost to find out about scoring any deals. We called the Dairy Queen in Manhattan, but no discounts or freebies there.
When: July 19th.
Let us know if there are other free ice cream deals we missed!
More from Thrillist:
The 33 Best Ice Cream Shops in America
FREE Ice Cream – Celebrate National Ice Cream Day